In this article, we will be applying the concept of the states of matter and their properties to the example of Plasticine.
Today, I'll be sharing the states of
matter and its properties
and how these concepts tie in with the example on
"Plasticine"
in an open-ended question.
Read Also
Question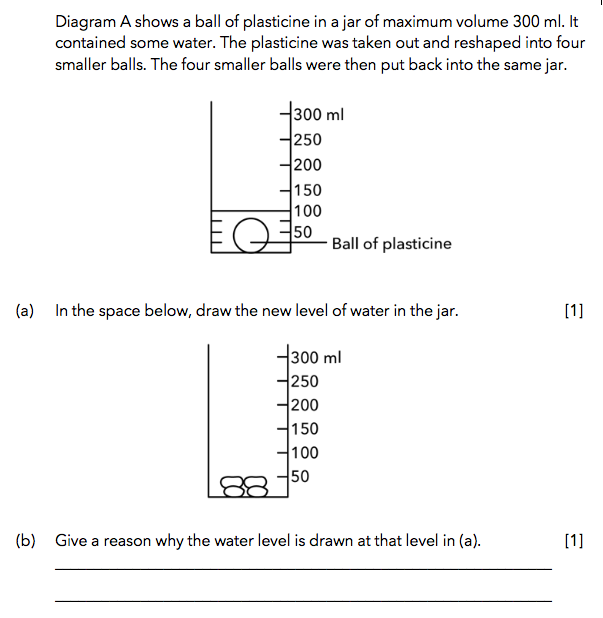 What Your Child Needs To Know
In this question, the ball of plasticine is taken out, separated into four smaller balls and placed back into the jar.
Students have to identify that this question is looking at the properties of plasticine, which is
Solids have a definite volume.
Explanation
Plasticine is a solid and has a definite volume.
Hence, the total volume occupied by the plasticine, which is still a solid, remains the same, even when it was reshaped into four smaller balls.
Therefore, it would still occupy the same volume in the jar with the water, causing the new water level in the jar to remain at 100ml.
Fun Fact
Solids have definite shapes and yet, we are able to change the shape of plasticine easily by exerting a force.
So, is plasticine a solid or a liquid?
Even though plasticine can be reshaped easily, it has a particular shape when left alone and would not take the shape of the container it is in. Conversely, liquids would always take the shape of the container which contains it.
On the other hand, plasticine can only be reshaped only when there is a force acting on it.
Therefore, plasticine is a solid.
I hope that this article has helped to clarify some misconceptions on the topic of Matter, especially with regards to the example of Plasticine!
---
The following two tabs change content below.
Lim Zi Ai
Ms. Lim Zi Ai is the PSLE Science Specialist of The Pique Lab. Over the past 6 years, she has worked with students from a wide spectrum of backgrounds – from the extremely weak to the highly gifted. This is accompanied by an impressive track record of having 80% of her students score As and A*s in the PSLE Science examination. As a Psychology graduate from the National University of Singapore, she actively seeks to use child psychology techniques to get her students to be intrinsically motivated to learn Science. Her secret lies in helping the child rediscover their interest for learning through her wide arsenal of humorous and inspiring teaching methods.
Latest posts by Lim Zi Ai (see all)