Whether it is a by-product or catalyst of the competitiveness Singaporeans are known for, no one can deny the prevalence of the tuition culture in the country.
This goes to show that we take academic achievements very seriously. And that's nothing new. The world knows Singapore as one of the countries that produce academically competitive individuals.
This puts a lot of pressure on Singaporean parents. Naturally, we only want the best for our children.
But how do we do this? How can we make sure that our children get the education they deserve?
We enroll them to the best tuition centre.
However, this may not be as easy as it seems; many parents get stuck in the cycle of enrolling their child to a tuition centre and then transferring them to another because the place is simply not the perfect fit for them.
The whole process can be tedious. What's worse is that it affects your child given the many learning opportunities wasted.
That's why we are about to lay down the different factors that contribute to a tuition centre's quality of services. Hopefully, at the end of the article, you know exactly what to look for in a good tuition centre.

Factor 1: Unique Learning Methodology
Great tuition centres often develop unique learning techniques that set them apart from average tuition centres, which have different objectives.
Some tuition centres may find it more effective to integrate fun in a student's learning process. As a result, their teachers may prefer to include more hands-on activities, such as experiments, that offer a break from the usual lecture delivery.
When assessing the tuition centre's learning methodology, it's important that you understand clearly the core objectives of each stage of the process and what your child can expect to achieve at the end of the academic term.
To guide you in what to look for in a centre's teaching methods, here are three things that most students are doing wrongly:
They attempt to memorise everything they learn.
They think that questions are always changing & fail to recognise question trends.
They spend a lot of time trying to formulate an accurate answer during their examinations, using what they know.
In order to be effective in nurturing students' academic performance, it's imperative that a tuition centre devises techniques to address these learning challenges.
Over at The Pique Lab, our education specialists have developed a proprietary methodology called the Complete Concept Integration™.
This methodology aims to help primary school students integrate the Science concepts learnt, so that they are able to apply their knowledge effectively. The intended goal is to help their students achieve stellar grades in the primary school Science subject, by shortening their learning curves.
We deliver the CCI™ methodology in three phases:
Phase I focuses on understanding key concepts on the Science topics that they've already tackled in school. Template structures are also introduced to students at this point, providing students with a framework they can work with in answering open-ended questions as comprehensive as possible.
Phase II teaches students to determine the Science concepts present in a question, how to link them, and how to use clues to answer them more effectively.
Phase III focuses more on introduction of question trends and consistent practice to enhance the student's mastery on different key concepts and answering structures. This phase will help them enhance their interpretation and analytical skills and at the end of the term, they will show improvements even on areas they initially struggled with.
The CCI™ methodology has helped many primary students shave off months of hard work, trying to figure out the question trends and what kind of answers work.
Eventually, we have discovered that most of our students undergo three striking changes:
Strong content knowledge: Many students have developed a stable foundation in Science and knows exactly how to prepare for their examinations.
Renewed sense of purpose in learning: They enjoy the learning process and look forward to every single lesson with us. They become more motivated & confident in dealing with questions on their own.
Strong analytical mind: They develop a keen eye in tackling & analysing examination questions, because they engage with these questions on a regular basis.

Factor 2: Notes And Other Learning Materials
Another indication of the tuition centre's calibre is the materials they use and provide for the students. The truth is most tuition centres are doing it wrong.
Why?
Problem One: They tend to focus too much on content and too little on design, disregarding the fact that most children are visual learners.
Problem Two: They tend to concentrate on drilling students with past year examination papers. While examination questions are a great help, there's a more appropriate way to taking advantage of this resource (read till the end to learn more).
Good tuition centres invest heavily in curriculum design that can help prepare students to face important examinations. They formulate their own notes and worksheets according to what really works, instead of relying on resources readily available in assessment books.
Diving deeper, you need to answer these questions:
What do they have that you can't find in others?

Are their notes packed with important information and, at the same time, are visually stimulating?
Our PSLE Science Specialists have developed a highly robust curriculum for primary school students by reverse-engineering the best practices of top-performers:
Inculcating a 'winner' mindset
Helping students understand the key points behind each topic.
Developing a strong thought process (i.e. the ability to string different concepts together)
Memorising & understanding the appropriate use of 'template answers', key words and key phrases
Being exposed to a large variety of questions, while understanding question trends
Design is extremely important to us because we know how important it is for learning materials to be visually appealing and functional, in order to meet our students' learning needs.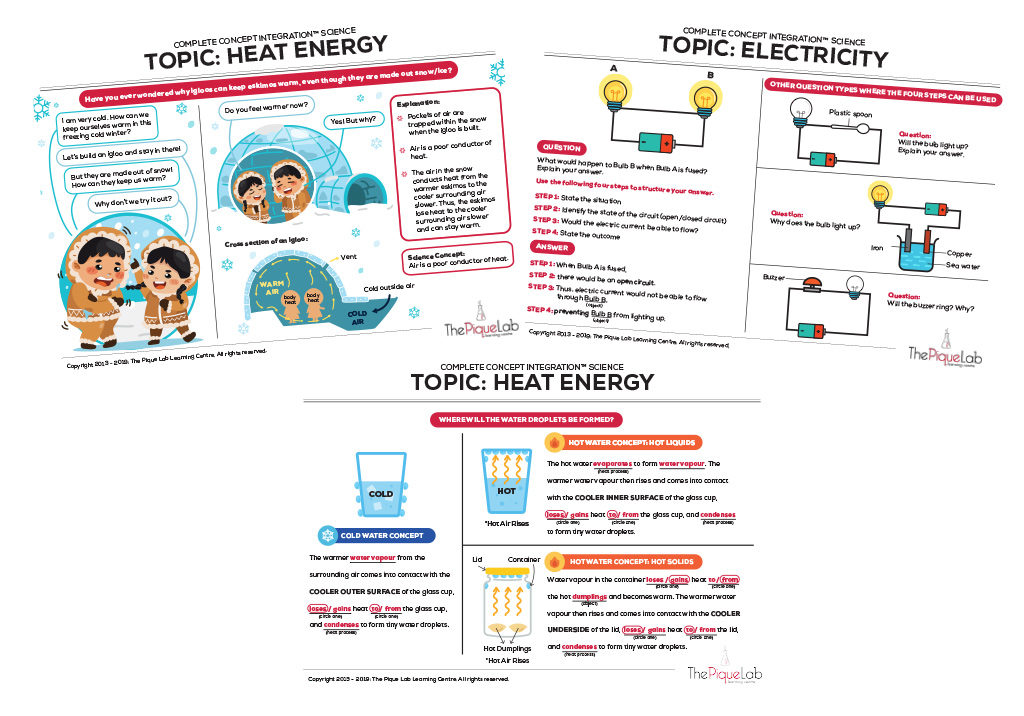 The Pique Lab's Visually Appealing & Functional Notes
Besides that, we also expose our students to targeted practices on a regular basis. These practices consist of past-year examination questions from different schools, which are segmented based on various 'question types'.
This means that our students are often equipped with examination strategies from the moment they join us, rather than a month before their examinations.

Factor 3: Credibility – Teachers' Qualifications & Communication Skills
Great communication is one of the soft skills required to be a teacher. This job is definitely not easy.
If even parents sometimes find it hard to communicate with their own children, how about those who don't spend as much time with them?
Sure, impressive degrees and years of teaching experience help, but they are not everything.
You will need someone who knows how to talk to kids, someone who knows how to do level adjustment which is very important in building trust.
So how can you know if a teacher has effective communication skills?
There are several ways, including checking out testimonials and reviews and enrolling your child for a trial lesson.
At The Pique Lab, all of our students will be meticulously coached by specialists who know their stuff & genuinely care for them. Consistency is very important to us.
As such, parents and students can be assured that the learning experience across all classes will be similar, so that students know exactly what to take note of and what to apply.
Over the past 6 years, we have helped more than 4,053 students and have been able to upkeep an incredible track record of having 80% of their students score As and A*s in Science. This is because our curriculum is always progressively updated in order to help our students learn Science easier, faster and better.
Our template answers have also been vetted extensively by senior teachers from MOE schools. Students who adopted our answering techniques in their homework and school examinations have also received strong positive feedback from their teachers.
In addition, we were also commissioned by a local primary school to train their entire department of primary school Science teachers.
The best part… they love their materials so much that they got them for the entire cohort of Primary 3, 4, 5 and 6 students. These are strong validations of work in the enrichment community.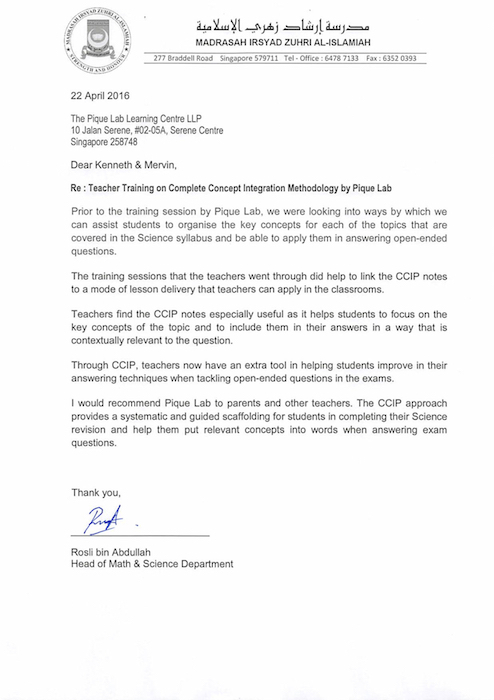 A Testimony From The Head of Department (Science)

Factor 4: Tracking Learning Progress
How a tuition centre tracks your child's learning progress is another important point to consider.
The reason why you're enrolling your children for a tuition programme is to assist your children with their education and to make sure that they're prepared for all the important examinations that they're going to take.
In order to track our students' learning progression, we have developed an entire suite of in-class exercises, homework and diagnostic tests.
This helps us keep a close pulse on our students' academic abilities. If we discover that a student is falling through the cracks, we will also get in touch with the student's parents periodically to share how we can work together to help the child improve further.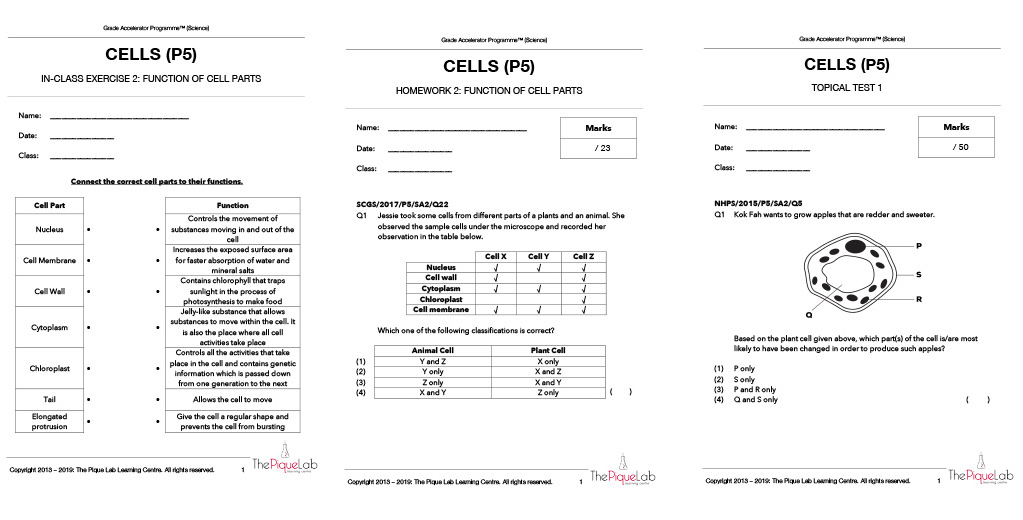 The Pique Lab's Sample Learning Materials: In-class Exercise, Homework & Topical Tests on Cells

Factor 5: Testimonials and Reviews
Testimonials and reviews are among your best sources of information on how a centre works from the parents' and students' perspective.
Here, you'll see if students enjoyed, learned and if teachers are likely to able to deliver great results.
You'll notice that most parents don't give testimonials about the tuition centre as a whole. Instead, they evaluate individual tutors and how they are able to contribute to their children's education.
Forums where parents discuss these topics are extremely helpful too. Here you can have an almost graphic image of the tutor's personality, which gives you and idea if they are a perfect fit for your child.
If you're considering a tuition centre, it would be great if they can provide you with a few testimonials from their students' parents.
What Parents Think About Our Programmes:
"My daughter had initially some difficulties connecting to the concepts. After attending the workshop which used a visual centric or infographics approach to the concepts.  She is able to grasp the concepts better and see the order."

-Ms Goh, Huiqi's parent
"I like it that the lessons were interesting and made more impactful with the energy level provided by the lecturer. The course notes were highly illustrated with pictures which made the learning more impressionable for the teens."

-Kelvin, Curtis's parent
"My child had problems answering open-ended questions. You taught her how to answer the open-ended questions properly. My child was impressed by the interesting  and funny lessons. My child begun to like science and found it interesting to learn science. My child improved in her open-ended questions and she had lesser careless mistakes."

-Jaslyn, Charis's parent
Check Out What Parents Have To Say On Our Facebook Page:
Click here to read other raving reviews!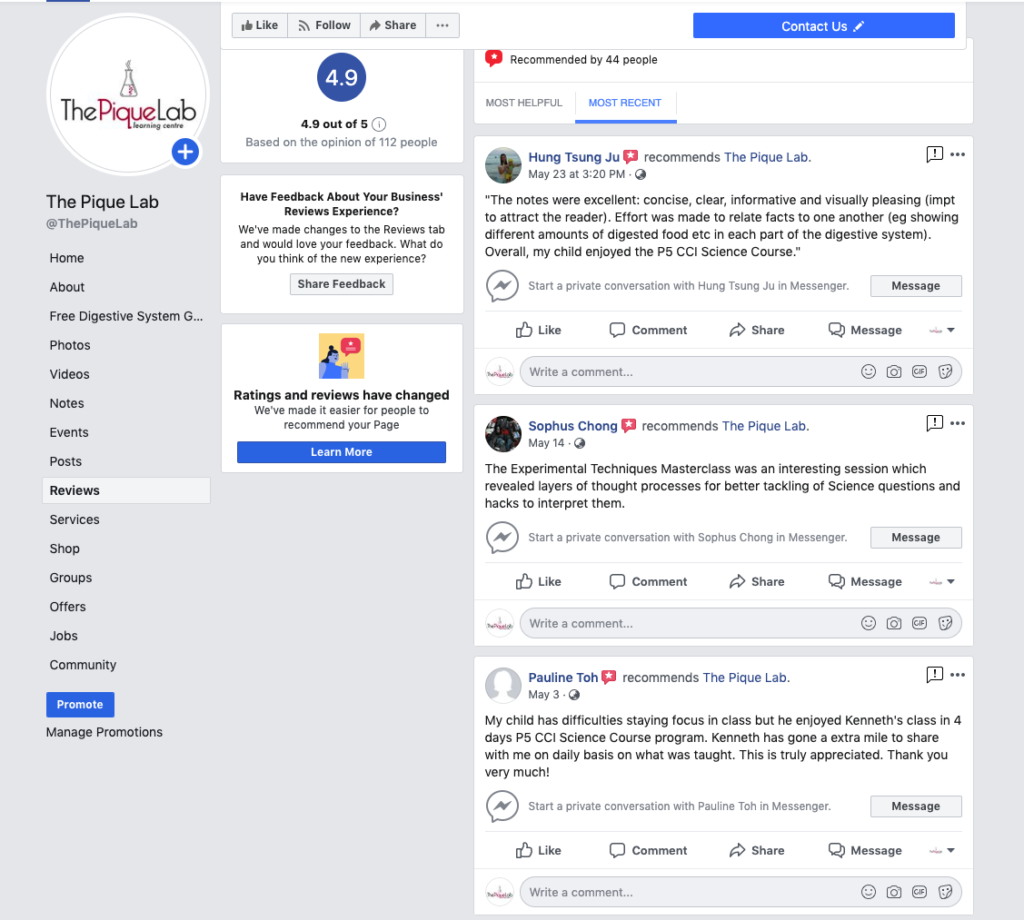 Check Out What Parents Have To Say On Our Google Reviews: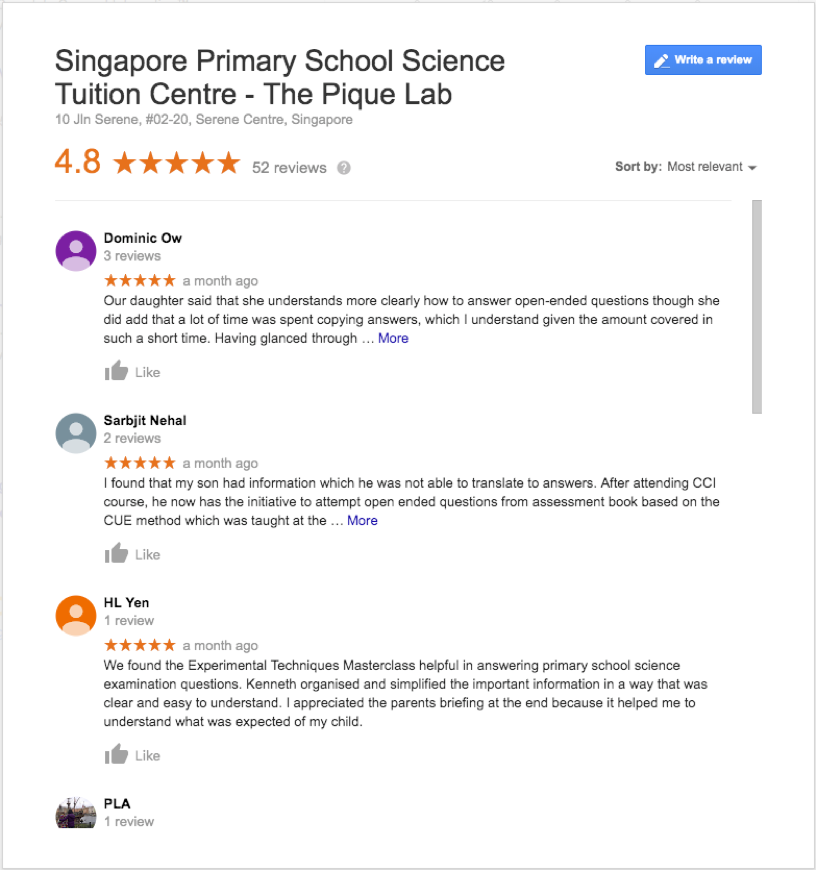 Factor 6: Trial Lessons
While testimonials can paint a rough idea of what your child can possibly expect in the learning experience, it is also important to attend a trial lesson in order to assess if the learning methodology and teacher are a good fit.
It's required for all prospective regular students to undergo a trial lesson before starting their regular class with us.
We believe that our Science programmes are not a one-size-fits-all solution works for every student. While we always strive to provide the best learning environment for our students, we also understand that not every student will benefit fully from our Science programmes.
As such, we've decided to put in place a behavioural assessment during the trial lesson to quickly assess if the student has a higher propensity of improvement under their guidance.
So, don't be offended if you're interested to sign up for a full term but we ask for your child to attend a trial lesson first.
Within the trial lesson, we will focus on two qualifying criteria when shortlisting students:
Learning attitude
Learning aptitude
Given this set of criteria, there are 4 important points to take note of:
A student with a good learning attitude and aptitude will be the best fit for The Pique Lab's Science programme. They'll be able to help him/her improve in the shortest period of time (In some cases, they've had students who saw their grades jumping from 70s to high 80s in less than 3 months).
A student with a good learning attitude and poor learning aptitude will eventually improve, so long as they put in the hard work to memorise, revise and apply what they learn. They'll probably take a longer time to absorb the subject matter, but they've been seen to improve once they're equipped with the right skills to excel.
Teachers at the Science tuition centre have also worked with students with poor learning attitudes (i.e. unmotivated) and good learning aptitudes. Assuming that these students are comfortable with the learning environment, specialists can try working with them to overcome their learning challenges. However, a lot of effort is often required to get them to a state where they're ready to learn and improve. Parents usually try out a one-term commitment to assess if The Pique Lab's classes work for their kids. In certain cases, they've been inspired and motivated to change for the better.
The regular classes are not suitable for students with poor learning attitudes and aptitudes. In most cases, these students tend to be disinterested in the subject matter and encounter problems trying to pay attention in class.
During the trial lesson, our specialist will be able to observe the student's performance and highlight any potential challenges so that parents can make an informed decision before committing to regular classes.
This is especially important as it is crucial for parents and teachers to align their expectations and work hand-in-hand to maximise a student's potential.
On the contrary, if a student exhibits signs of inattentiveness, disruption and/or laziness, it's not that he/she cannot be helped.
Rather, a different learning approach might be more suitable & it's typically best administered through a private 1 to 1 arrangement, which the tuition centre does not offer.
As different students have different learning needs, it is the role of educators to find one that best fits them, so that they can spend their time meaningfully every week.

Factor 7: Support Outside of the Classroom
Great tuition centres extend the guidance they provide for the students beyond the classroom.
We're talking about posting fun social media content, providing blog articles that they can access online, putting up videos that educate and entertain, and building communities that provide ample support.
We have a strong online presence in order to provide support for students and parents alike outside the classroom.
Blog
The centre's blog, The Smart Student, provides a wide range of resources from strategies on how parents can help their kids learn better to in-depth discussions on different Science concepts, where we also tackle specific questions in order to guide students on how to answer them more effectively.
Click here to check out the other articles.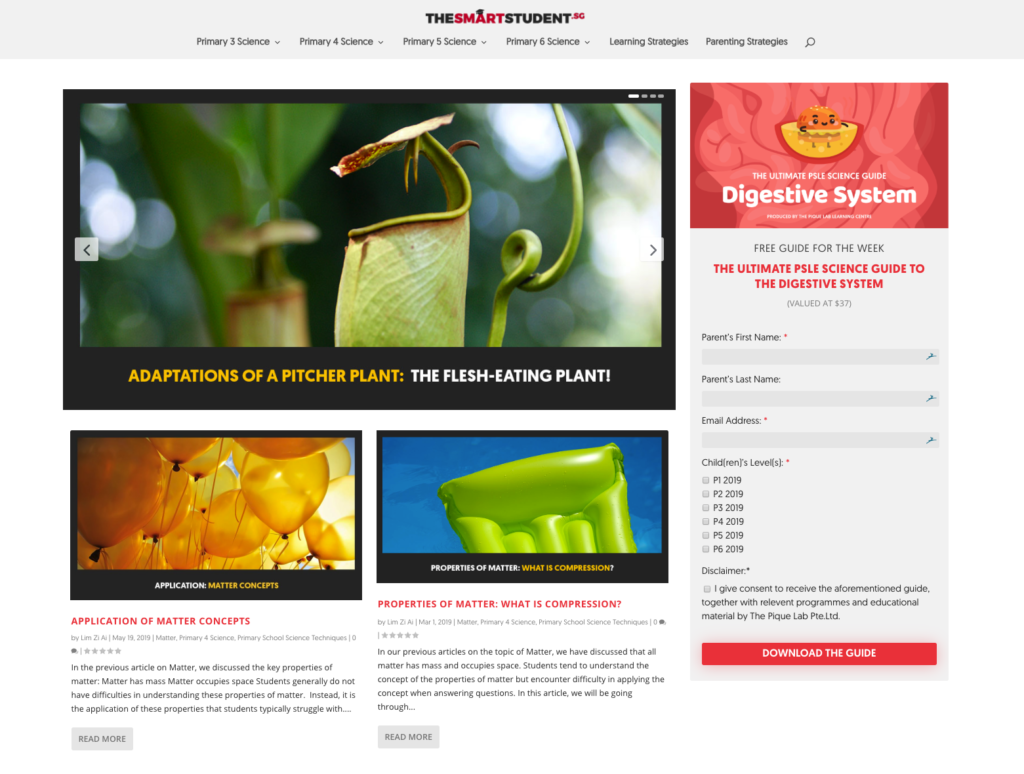 The Pique Lab's Blog (click here to view)
Instagram
If you check out our Instagram account, you'll find it filled with brilliant Science jokes and trivia.
But more importantly, it is where the centre releases important announcements, so parents and students won't miss a thing.
Click here to check out the Instagram account.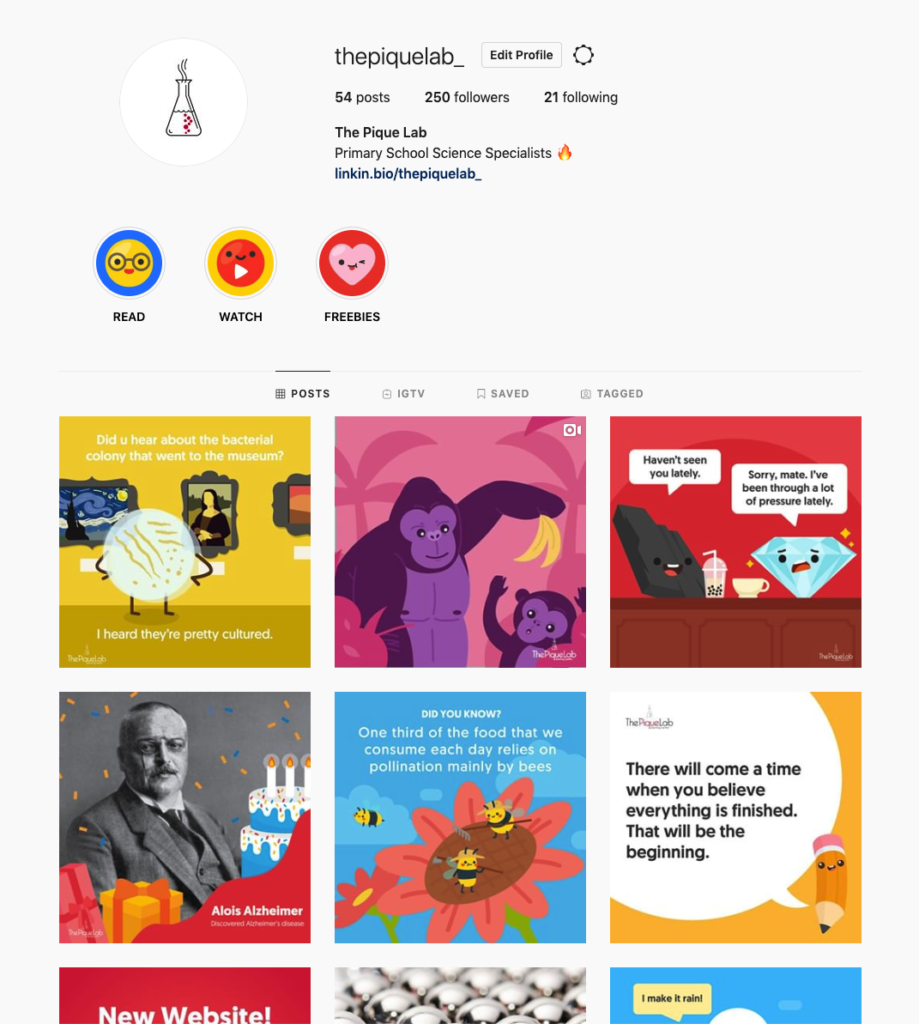 The Pique Lab's Instagram (click here to view)
Videos
Knowing that children tend to respond better to visual stimulation, we are also working closely together with talented animators to incorporate fun in the learning process.
You can find these videos on our YouTube Channel where we discuss different Science topics in themes that children will definitely love.
Click here to check out other cool videos on our YouTube Channel.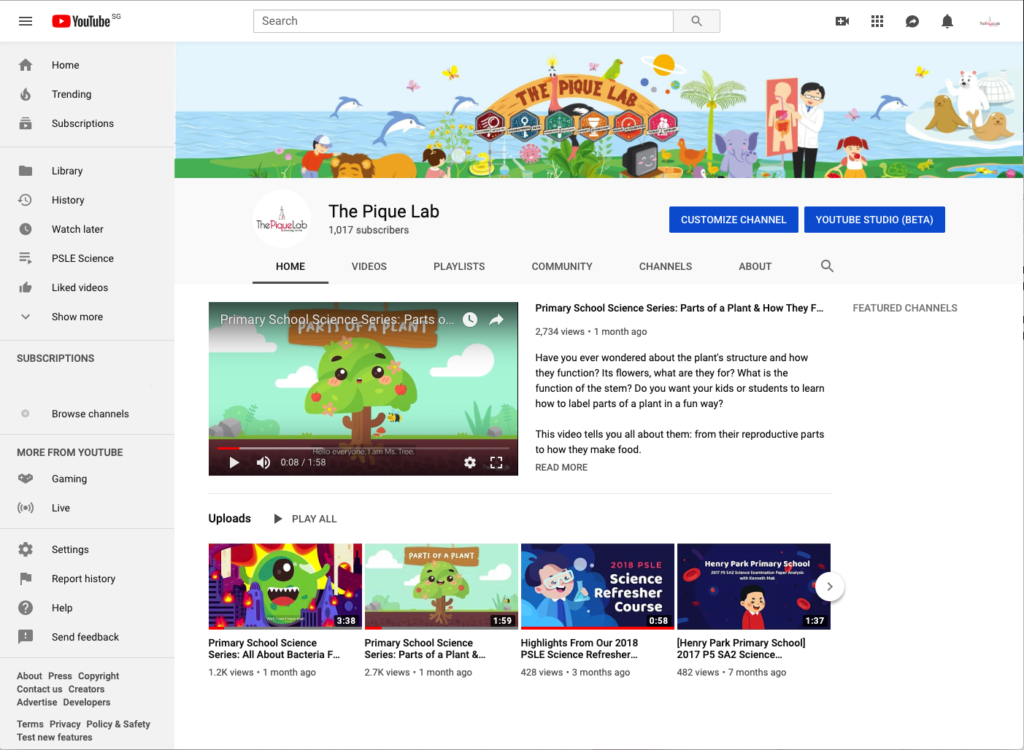 The Pique Lab's YouTube Channel (click here to view)
Learning Portal
This is where you will be able to find everything — from notes to programmes to the best deals that the centre is offering.
Think of it as a library where you can access different types of materials that can guide you and your child on this journey.
Click here to check out the amazing materials on our Primary School Science Notes Portal.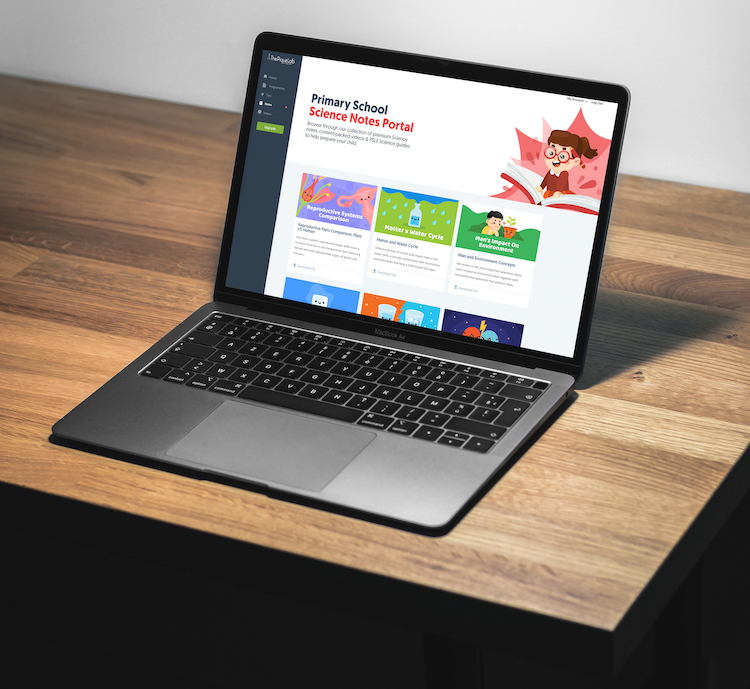 The Pique Lab's Learning Portal (click here to view)
Parent Support Group
The Pique Lab's Parent Support Group provides a learning environment where everyone can share their experiences and interact with fellow parents and students.
Many parents utilise this platform to tackle challenges and get tips to improve their strategies.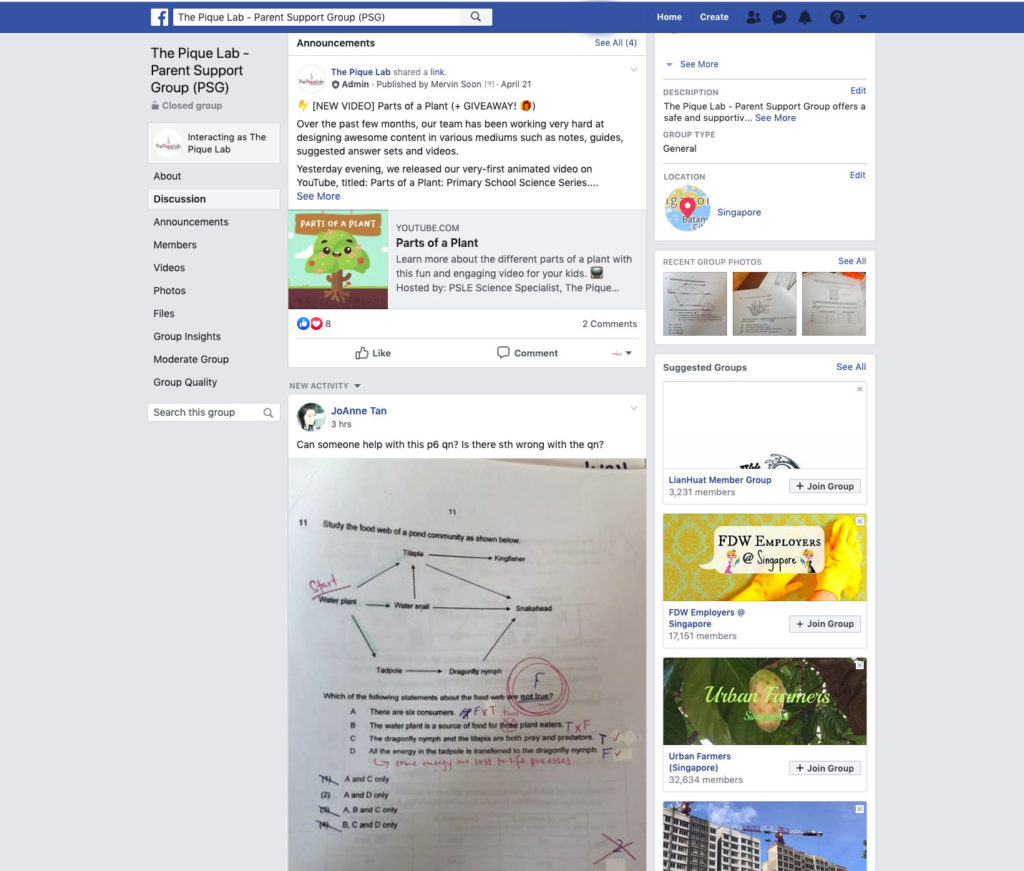 The Pique Lab's Parent Support Group (click here to view)
Shop
Through the efforts of our dedicated specialists, we have also been able to design & publish a series of different learning materials to help your child learn easier, faster and better.
For instance, we have our Past Year Suggested Answer Sets where we provide suggested answers to various Primary 5 and Primary 6 past year examination papers.
Besides, we also have our Science Practice Series, which is a curated selection of past year examination questions sorted based on various topics. These questions can help to gear your child towards mastery in these Science topics when the practice is done right.
You can also find cool wall posters specially designed for both aesthetics and educational fun.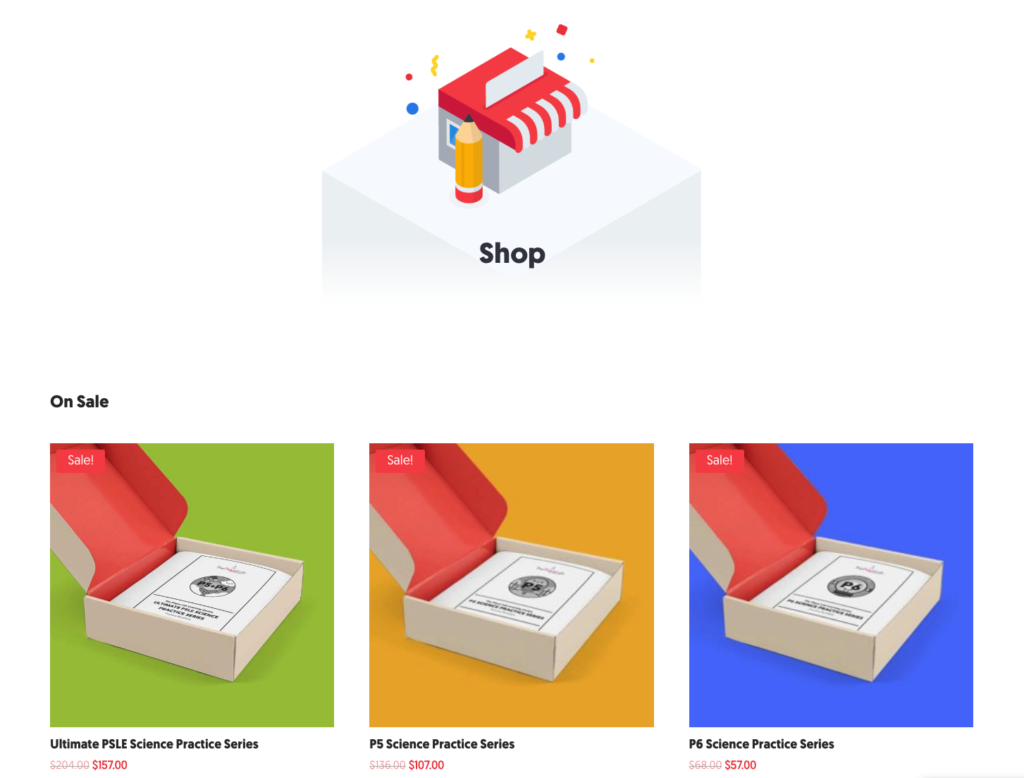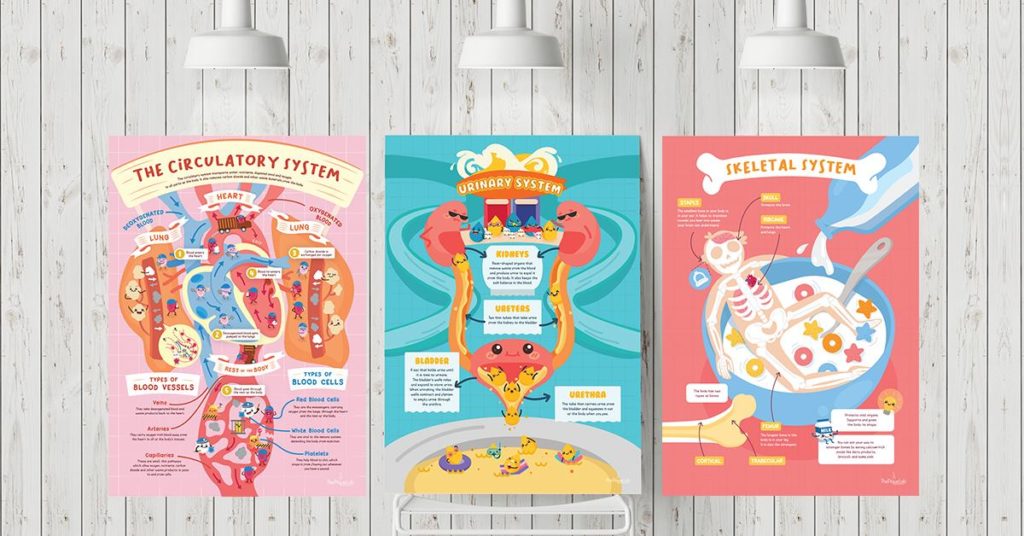 The Pique Lab's Online Shop (click here to view)
In Conclusion
Finding the best group tuition centre for your child takes more than reading a few testimonials and "how-to" guides that barely cover the most important points.
In order to make an informed decision, you have to dig deeper to make sure that you get the most value out of your investment.
A centre's learning methodology and environment may work perfectly well for many students, but it doesn't automatically mean it is the best fit for your child. Remember that there's not a one-size-fits-all solution.
Once you have identified a programme that may work for your child, enroll for a trial lesson or a workshop to assess if the environment is a good fit for him/her.
We hope these tips are beneficial in aiding you on your journey to discover the best tuition centre for your child's needs!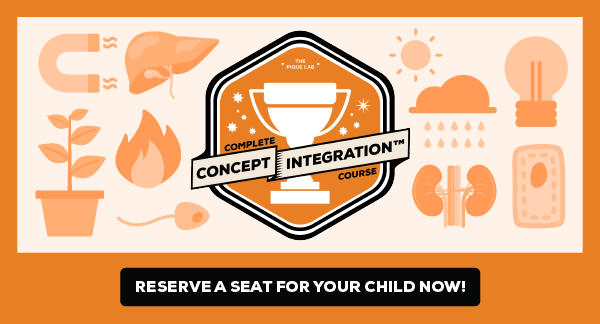 If you like our methodology, we've some upcoming workshops: