Ultimate PSLE Science Practice Series (P5 & P6 Topics) – RECOMMENDED FOR PRIMARY 5 & 6 STUDENTS
⭐️⭐️⭐️⭐️⭐️  (Over 358 Purchases!)
⚠️ Please read the description below before purchasing.
Ultimate PSLE Science Practice Series (P5 & P6 Topics)
The Ultimate PSLE Science Practice Series (P5 & P6 Topics) provides a curated selection of past year examination questions from the following topics:
Cells
Body Systems
Heat Energy
Water Cycle
Light
Magnets
Plant Cycle
Reproduction
Electricity
Energy
Forces
Web of Life
Adaptations
Man's Impact on the Environment
It is designed for Primary 5 and 6 students who are interested in getting more practice for both the multiple-choice section and open-ended section from these topics.
Apply the thought processes & answering techniques taught during the Complete Concept Integration™ Science Course on these exercises and start to see improvements in your answering strategies!
Featuring 810 multiple-choice questions (MCQs) and 310 open-ended questions (OEQs), our curation of questions on these Primary 5 and Primary 6 topics will help to gear your child towards mastery in these topics when the practice is done right. This practice booklet includes suggested answers provided by our academic team from The Pique Lab.
Please Read This Before Your Purchase:
This is essentially a compilation of past year examination questions (MCQs & OEQs), together with suggested answers from our academic team using the CCI™ methodology. If you like additional tips/guidance to solve these questions, please check out the Explainer Video Bundle below.
The suggested answers should be treated only as a guide. The answers provided may not be entirely representative of the opinions of all primary school Science examination setters in Singapore. The Pique Lab will not be offering any refund/store credit under any circumstance.
Order Fulfillment Timeframe:

For Courier Delivery via Urban Fox: You can expect to receive it within 5 – 7 business days after the order is made.
For Express Delivery via uParcel: You can expect to receive it within 2 business days after the order is made.
For Self Collection at Our Serene Centre Campus: Please drop us a WhatsApp text at 8621 1533 to check on the availability before dropping by as we may not have ready stock at our Frontdesk.
⚡️OPTION TO UPGRADE⚡️
Supercharge Your Child's Practice Journey With The Explainer Video Bundle For Just S$230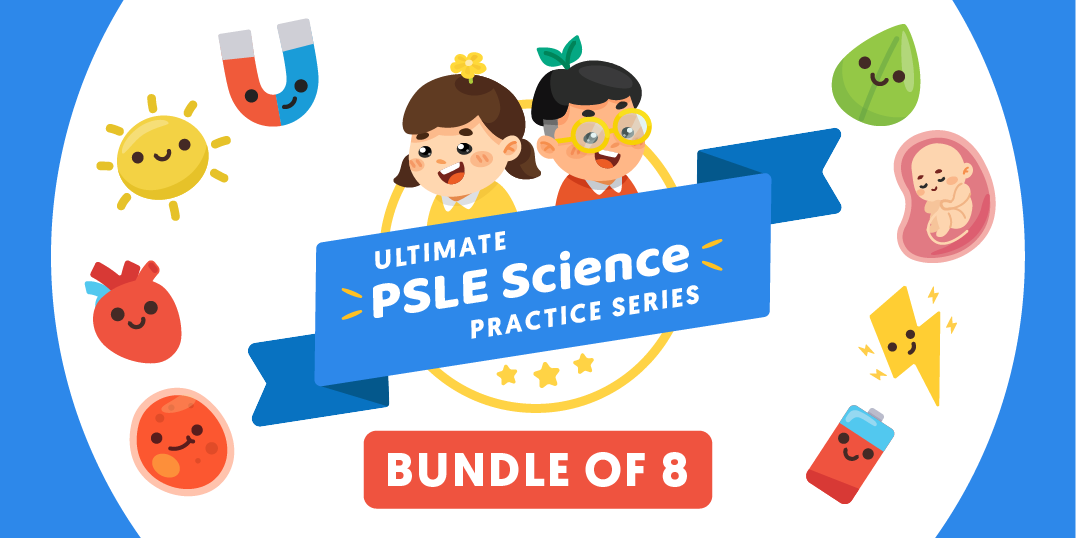 The Explainer Video Bundle features 595 step-by-step videos (435 MCQs & 160 OEQs) on how to tackle multiple-choice & open-ended questions on the following 8 topics from the Ultimate PSLE Science Practice Series (P5 & P6 Topics):
Cells
Body Systems
Light
Magnets
Plant Cycle
Reproduction
Electricity
Energy
Please Read This Before Getting The Bundle:

After you made your purchase, an activation link to our learning portal account will be sent to you via email within 15 minutes where you can get access to watch these recorded videos at your pace.
Each learning account is only intended for ONE user and can only be accessed by ONE device at any point in time. Access to your learning account may be suspended if the system detects any anomaly access behaviour by multiple users.

No refund

will be provided after the purchase.
Please note that only 8 out of 14 topics in the Ultimate PSLE Science Practice Series (P5 & P6 Topics) Set is covered in this Explainer Video Bundle. When the videos of the rest of the 6 topics are ready, they will be

sold separately as another bundle

& we will inform our community via email.
Key Highlights:

#1: Learn The Thought Process Behind Solving Questions (Simple & Tricky Ones!)
We'll teach your child how to identify certain question types and apply appropriate step-by-step methods to tackle multiple-choice questions and open-ended questions quickly.
We'll also dive deep into why certain MCQ options are NOT accepted as the answer.  A good examination setter knows how to weave MCQ options that contain misconceptions to trick unsuspecting students.
Besides, we'll be sharing these common conceptual pitfalls, so your child can learn to avoid them.
#2: Discover Useful MCQ & OEQ Annotation Techniques
Your child will learn our annotation technique which is designed to provide greater clarity when solving Science questions.
We'll show your child exactly what needs to be highlighted, circled or even written for these questions.
Annotating is more than drawing ticks and crosses. Do it right & you'll see your child tackling MCQs & OEQs a lot faster and more accurately than before.
#3: Recap On Key Concepts Relevant To The Question's Topic
This is important because it helps your child understand the different ways a concept may possibly be tested. The good news is that this recap will also be helpful in your child's overall PSLE Science revision.
Sample Videos: