If you're here, you're probably considering to enroll your child in our Experimental Techniques Masterclass at The Pique Lab.
I know you may have some burning questions about this programme & you would like to seek some clarification before proceeding with the enrollment.
Read Also
Here are three key takeaways from our past participants (using genuine, verifiable recounts):
#1: They have benefitted from the notes & templates that we designed for them.
"It was indeed a great session Both Krissha and I felt that you guys have really put in so much of effort to actually identify and consolidate templates for easy learning. It was just a mere 3-hour session, but Krissha told me that she was glad that she had attended this session as she had definitely benefitted from the notes and templates. Great Job!"
– Mrs. Anitha, Mother of T Krissha
#2: We have made them feel that they are not alone because of our strong post-programme support.
"I am glad to find structured and to the point kind of solution that can help my daughter greatly.
With this session, we know that we can go through together to help her PSLE with higher confidence and easy for us as a parent.
Thanks to The Pique Lab team for the customised class and ongoing efforts on the replies of the doubts and clarification of the science topics through Facebook. This is where we feel that we are not alone with the struggles!"
– Mr. Vincent Lim, Father of Kristine Lim
#3: We have given them a clearer picture of what to expect.
"The Experimental Technique Masterclass zooms into different types of experiment questions, answering techniques for each of these questions, keywords/phrases to be used, which is exactly what we needed for our son who needs a lot of exposure in these areas.
The briefing for parents was also very good as it gave us a clearer picture of what is expected by the school and how we are able to guide our son.
Thank you!"
– Ms. Bina Sheth Father of Dilaan Sivakumar
Why Am I Doing This FAQ?
Over the past three years, more than 711 primary school students have attended our Experimental Techniques Masterclass.
We are thankful for the unwavering support from our parent community that has allowed us to impact more students. These little steps will help us achieve our big, bold goal of creating 10,000 successful case studies by the end of 2020.
Some parents have been referred by their friends to attend our Experimental Techniques Masterclass. And perhaps, they have had the opportunity to clarify some of the questions they may have about this course with their friends.
For those parents who are new to us, I have made this post for you.
In this article, I will outline all of the frequently asked questions about our Experimental Techniques Masterclass. Ultimately, my key objective is to help you make a more informed decision in choosing the right programme to aid your child in his/her learning.
Q1: What Is A Masterclass?
It's NOT a trial class nor a typical holiday program where you expect there are 20-30 students crammed in a class, in a bid to do some last-minute rescue work.
…a Masterclass is more like a lesson dedicated towards the strong mastery of a particular skill.
Here's how it works:
Throughout our teaching careers, we have perfected a number of strategies and tactics that are proven to work for our students.
More importantly, these strategies are carefully documented in our course material, so these best practices can be taught effectively to new primary school students.
We will not hold any back "secret tactics" (unlike traditional kungfu masters) & these strategies would be EXACTLY THE SAME as the ones taught to our high performers.
Q2: What Will You Be Covering In The Experimental Techniques Masterclass?
The Experimental Techniques Masterclass is a 3-hour course where we work together with primary school students to improve their answering techniques to tackle experiment-centric questions.
Our PSLE Science specialists have identified six types of experiment-centric questions that can be tested in the open-ended section of the Science paper:
1) What is the aim of the experiment?
2) What does one keep X the same to ensure a fair test?
3) What is the relationship between A & B?
4) How do we ensure that the results of the experiment are reliable?
5) What is the purpose of the control set-up?
6) What can you conclude from the experiment?
Q3: Who Is The Instructor For The Masterclass?
Our classes are conducted by our team of highly-popular PSLE Science Specialists.
Our PSLE Science Specialists have collectively more than ten years of teaching experience under their belts. During which, they have experimented with plenty of studying strategies, keywords & template answers. More importantly, they know what works for the student and what doesn't.
Using the proven techniques from our Complete Concept Integration™ methodology, they have helped more than 80% of their students clinch As and A*s during the PSLE Science examination.
Seasoned by experience, they're known among parents for building rapport with their students & helping them achieve tremendous academic results in the shortest period of time.
Q4: What is the maximum class size?
Our Experimental Techniques Masterclasses are typically fully booked. You can expect the class to have 12 students.
Q5: Will my child be getting any materials from this masterclass?
Yes, your child will be receiving a guide booklet covering the answering techniques for the 6 types of experiment-centric questions.
On top of that, he/she will be receiving a question booklet containing a curated list of open-ended questions from primary school examination papers. We have meticulously handpicked these questions from different schools for your child.
As such, your child will have the opportunity to apply the thought processes and answering techniques learnt on these questions immediately. 🙂
Q6: Will there be breaks in between classes?
Yes, we typically offer a 5-10 minutes break for every 1-hour of learning.
Your child will get two short breaks during the 3-hour masterclass.
Q7: What is the difference between the CCI Science Course and the Experimental Techniques Masterclass?
The CCI Science Course is a different programme from the 3-hour Experimental Techniques Masterclass.
We have designed the 3-hour masterclass to be a skills-based workshop for Primary 5 and Primary 6 students. As mentioned above, we will be focusing on questions involved in experimental set-ups (such as what is the aim of the experiment, how to ensure a fair test, etc).
In contrast, we have designed the CCI Science Course to be a content-based, comprehensive workshop. For the CCI, we will be focusing on the thought processes & answering techniques for a selected number of P4, P5 (and P6) topics.
There'll not be any overlaps in terms of the focus.
Parents usually send their kids for both courses because we cover answering techniques for different skill sets.
Moving Forward…
If I've answered any of the questions that you may have, please feel free to leave us a comment below saying "Thanks!".
You may proceed with the registration by clicking here.
Should you need further clarifications, I can be reached at 8621-1533 or via email at hello@thepiquelab.com.
Thank you! 😀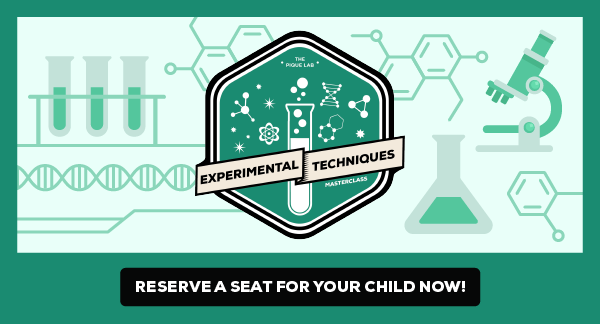 If you like our methodology, please click here to explore our Experimental Techniques™ Masterclass for P5 & P6 students.