Sluggish. Boring. Confusing.
These are common traits of a poor elearning experience – what any parent or student dreads.
Learning online comes with its set of challenges and it is often due to a result of poor support (user training, documentation and technical assistance), coupled with unreliable infrastructure.
On 24th March 2020, the Ministry of Health announced that all centre-based tuition and enrichment classes will be suspended from 27th March 2020 to reduce the intermingling of students from different schools.
Essentially, this meant that within a span of 48 hours, tuition centres had to adapt to the latest measures or risk closing down, leaving parents and students in the lurch.
Since the announcement, many parents have come up to us to express their concerns over their children's learning progression with the Centre. One common question is:
How effective is online learning? How is it comparable to offline lessons?
We understand that it can be discomforting for some parents to accept online lessons as an alternative to offline lessons because of their perceptions about elearning in Singapore. If the elearning experience is poor, it is counterintuitive to spend on tuition.
While most tuition centres have managed to move their classes online, what separates a centre that delivers a phenomenal elearning experience as compared to a mediocre one?
The answer is Execution.
At The Pique Lab, we are often lauded for our ability to create a phenomenal learning experience for students, our speed of execution and our attention to detail.
Over the past week, we have successfully managed to transit to online lessons with parents showing their appreciation for our work.
Here's What Parents Have Been Saying
Well Thought Out, Well Organised & Efficiently Put Up! 

A Perfect Digital Lesson For Her Kids! Made The Right Choice. 

Online Learning Response Is The Best Among Many Other Enrichment Centres

Productive Lesson… Very Focused & Engaged In The Lesson 

Here's How We Do It
What Is It Like to Attend A Live Lesson at The Pique Lab?
In this section, we will walk you through step-by-step of the whole elearning experience, so you know what to expect.
Step 1: Receive Your Child's Lesson Handouts
All worksheets will be hand-delivered to your doorstep via our trusted courier partner.
(1) This process eliminates the inconvenience of printing the handouts or having your child attempt the questions electronically. 
No printer or ran out of ink? We have got your back covered. 
(2) Given that your child's upcoming examinations are very likely to be done on paper, we want to retain the familiarity behind attempting questions and writing answers on paper.
It is very important to not lose this touch, especially with the increase in home-based learning during this period. 

Step 2: Receiving Your Child's Class Access Link
ONE DAY prior to the commencement of each lesson, our Customer Care team will send you the credentials required to enter your child's virtual classroom via WhatsApp and Email. 
Although it takes a lot of time and effort to send these notifications on a daily basis, we insist on doing so because we want the elearning experience to be as seamless as possible for our little learners.

Step 3: Attending the Elearning Lesson
During the live lesson, students will be expected to switch on his/her camera and microphone, so that they can participate effectively in the virtual classroom.
Our teachers will conduct the lesson as how they usually do in an offline setting by annotating directly on questions using screen sharing and engage the students accordingly by asking questions. 
A 10-minute break can be expected during the middle of the lesson. During which, students may use the restroom or have a snack. 
If your child has any question(s) at some point during the lesson, he/she may raise his/her hand or ask them in the 'Chat' box. 

Step 4: Post Lesson Support 
Support does not end after the digital lesson ends.
(1) We will publish the answers to the handouts used in class for students enrolled in our regular classes, so they can make references to them directly during their self-revision.
(2) Parents may also reach out to their child's teacher for academic support via WhatsApp after the lesson. 
We believe in creating a fantastic elearning experience and not throwing students in the deep end. 
This is OUR COMMITMENT to every student who attends lessons at The Pique Lab.
Why Do We Conduct Live Lessons Over Recorded Lessons?
Although recorded videos were considered during the implementation phase of our elearning experience, our academic team decided to deliver the lessons live for our students at their existing scheduled regular class time slots.
Here's Why:
(1) We are better able to engage with our students. 
Science concepts are often taught using various personal anecdotes and jokes, so that the subject matter becomes more relatable to children. During our lessons, we also make several references to our open-ended answering structures, so that it is easier for students to apply when they encounter similar questions.
As such, it is important for us to be able to interact with our students and this can only be achieved using live lessons and not pre-recorded lessons.
(2) We are able to better control the classroom dynamics in a live lesson environment.
Our teachers are able to observe the students' facial expressions during the live lesson & prompt them accordingly.
Based on the questions asked by different students, the teacher would be able to respond accordingly. This will inadvertently help other students to learn at the same time, especially for students who are more reserved and less vocal. 
(3) We want to make the process as pain-free as possible for parents and students.
We felt that students may not have the discipline or willpower to watch the entire recorded video without getting distracted.
This may invariably create more stress and frustration for parents who feel compelled to get their children to learn from recorded videos. 
Given that our live lessons are conducted at the students' existing regular class time slots, students are expected to show up for these lessons. Granted that the learning experience is pleasant with our regular interactions with students, students are more likely to pay attention in these live lessons.
Our Investment in The Right Tools for A Great Elearning Experience
Many parents may not be aware of this: The infrastructure used to execute the lessons can make or break the student's elearning experience. 
This is why we insist on using reliable and appropriate infrastructure to conduct our lessons, even though it is expensive to execute at scale in a short span of time.
Here's What's Required for A Great Home-based Learning Experience: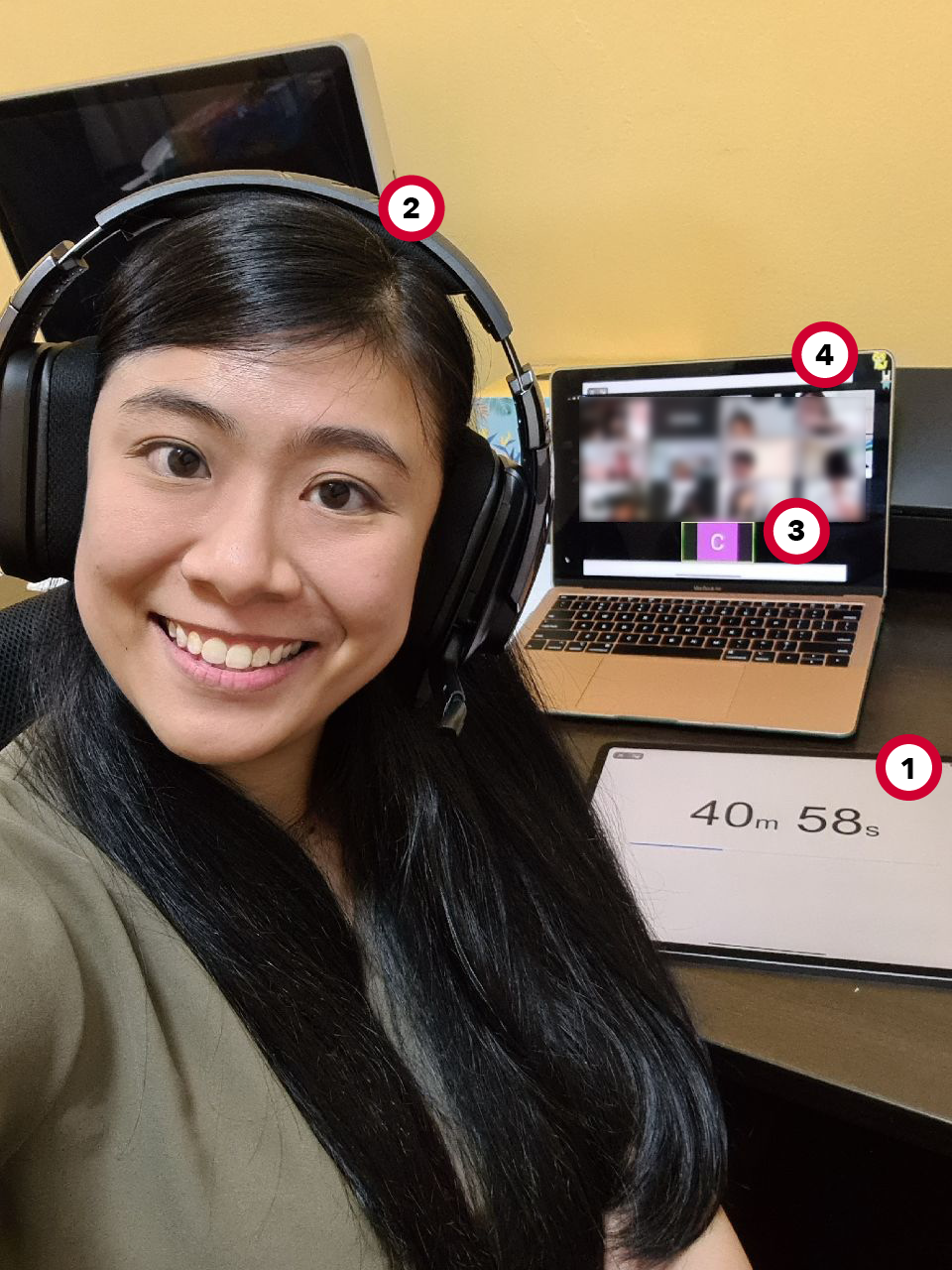 Digital Lesson Starter Pack
(1) 12.9" iPad Pro with Apple Pencil: During the live lesson, we are able to share our iPad screen with our students. This allows us to annotate directly on the question papers during the live lesson, so that it feels exactly the same as attending the usual lessons at our centre.
(2) Professional Headphones: It is important to be able to hear and speak clearly during the elearning lesson. Having a good microphone allows us to pick up the teacher's speech over ambient sound, which is typically the case for built-in microphones.
(3) Zoom: Zoom is a teleconferencing tool that is extremely simple and familiar to use. In order to conduct lessons of up to 3 hours, all of our teachers have been placed on the Pro plan to enjoy constant connectivity during the elearning lesson experience.
(4) Laptop: Aside from the tablet, the teacher also connects his/her laptop to the virtual classroom during the elearning lesson. This gives them easier control over the virtual classroom environment as they can see the students' faces more clearly on a bigger screen and helps them to respond to chats easily.
(5) Network Infrastructure:

In order to stream the live lessons reliably, it is critical to have a strong internet connection with the right infrastructure. No matter where our teacher hosts the lesson from, he/she can continue to do so without worrying about regular disconnections.
We underwent an extensive network upgrade process in March for our Company's network, weeks before the '1-month circuit-breaker' was implemented. Given that the teachers will need to stream the lessons from their homes now, we have supported them with additional network infrastructure (e.g. LAN cables and wireless access points) and conducted extensive connectivity tests.
Access to Technical Support
We have further enhanced our technical support team to ensure a smooth and stable elearning experience.
How We Support Our Students:
Prior to attending the first elearning lesson, parents will be given step-by-step instructions on how to install Zoom on the student's learning device. This also includes screenshots on what to expect during a elearning lesson as well as best practices in order to have a seamless experience.
A Live Chat technical helpdesk support is available during our operating hours to offer parents and students timely help in the event of a technical problem. This is important because we are able to help multiple parents at a given point in time, unlike our Phone or WhatsApp lines.
How We Support Our Teachers Working from Home:
We have trained our teachers on some basic troubleshooting techniques in the event of a elearning lesson disruption.
In addition, with remote helpdesk tools, our IT staff have the capabilities to help our teachers with any technical issues.
Last Notes…
Creating a fantastic elearning experience requires a lot of time, money, expertise and effort. More importantly, it requires different team members to work closely together to ensure that every student is taken care of. 
We know that it is a stressful period for all parents and students and we greatly appreciate everyone's support in this digital learning journey. We also understand that elearning can be a challenge for students who aren't used to the amount of focus required for effective online-based learning.
This is why your feedback matters to us and we will continue to devise viable solutions to improve on the elearning experience as much as possible.
If you are considering elearning lessons at The Pique Lab, your child is welcome to explore a trial lesson arrangement with us at no risk* (*only applies to new enrollments in our Grade Accelerator Programme course – i.e. weekly, regular classes).
In other words, if your child enjoyed the first elearning lesson with us, you pay for it. If not, the lesson is on us.
📍Schedule An Elearning Experience Here: https://thepiquelab.com/2020-science-programme-interest-check/
Thank you & we look forward to helping your child achieve his/her learning goals.
Take care & stay safe! 💕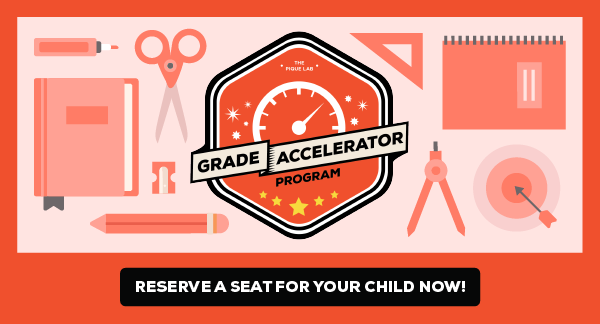 If you like our methodology, feel free to schedule a trial lesson in our regular classes: